TESTIMONIALS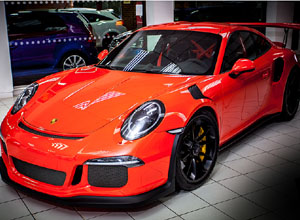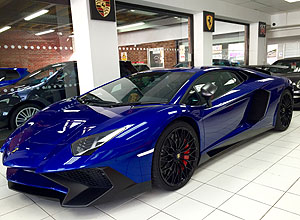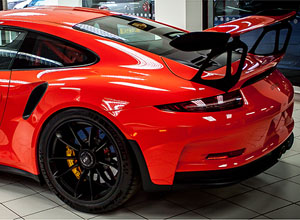 - Amir Mohyuddin, Managing Director - ASM Performance
"We have been using Smartshine Car Detailing services regularly to detail our high end cars and we are completely satisfied with their amazing results and continue to use to the exclusion of others. Harvey is a perfectionist who takes pride in his work and attention to detail. Transform our supercars into better than new!. I would highly recommend Smartshine Car Detailing without hesitation to others we are looking for perfection."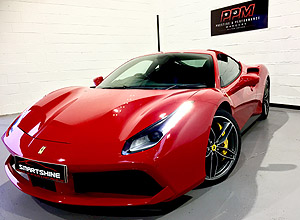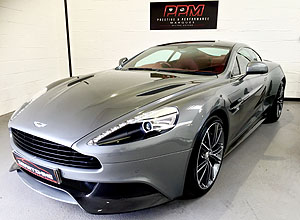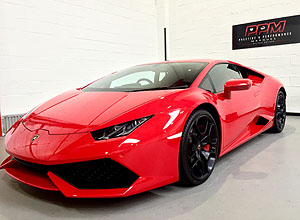 - Bill Sherlock, Managing Director - PPM Milton Keynes
"We use Smartshine Car Detailing to prepare our cars ready for sale. Excellent car detailing services and very reliable. Previous car owners didn't look after their cars very well, this is where Harvey,s experience he used to prepare paintwork by machine polishing to remove swirl marks caused by poor washing. Timely process but the end results are worth it. I would highly recommend Smartshine Car Detailing. Give them a call today you won't be disappointed!."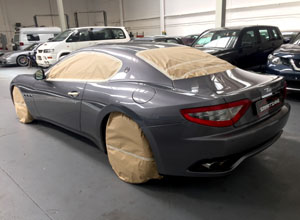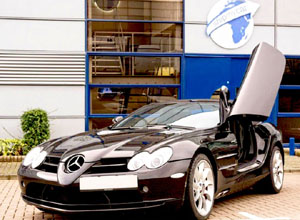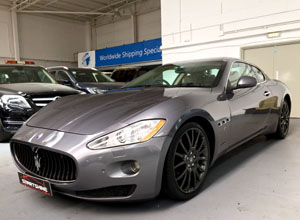 - Nick Roach, Managing Director - Ship My Car
"When Smartshine Car Detailing have finished detailing clients cars, they are totally transformed. Harvey's years of detailing shows in his work. Adding value to them when they come to re sale. Detailed cars look better then when it was new. I would highly recommend Smartshine Car Detailing services to others. Master car detailer it just a phone call away."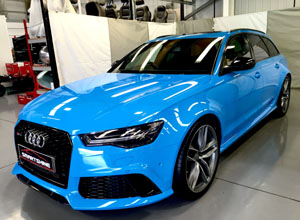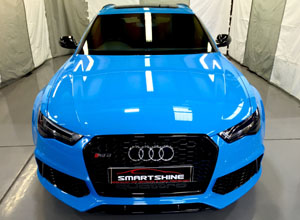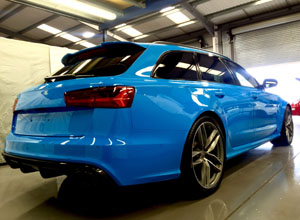 - David Mahoney, Managing Director - TTS Roadsport
"Amazing car detail on my Audi RS6 Porsche Riviera Blue. Being a used car the paintwork not in the best condition so booked in with Smartshine Car Detailing in for a full paint correction. Estimated 3-5 day detail. Once the paintwork is perfect Harvey applied gtechniq ceramic coatings to protect paintwork for years and against future swirl marks. After car detail bringing it to be better than showroom condition that I would be proud to show anyone and my car is often at car shows so has to be perfect. The quality of work and the attention to detail is great. I am really happy with my car now and is clearly worth more than when l bought it. I would highly recommend Smartshine Car Detailing for anyone that loves their car!"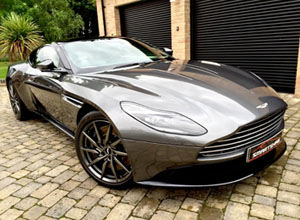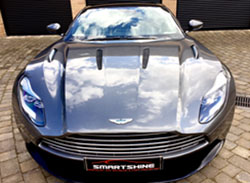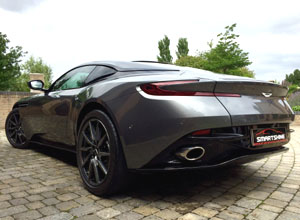 - P. Cook, Herts
"I have been using Smartshine Detailing for 10 years, and wouldn't trust anyone but Harvey to detail or carry out paint correction work on my cars. He has repaired some awful swirl marks and scratches on new cars, and always creates a perfect finish. His attention to detail is second only to the care and expertise he brings to bear on the cars, always a total professional and cannot be recommended highly enough."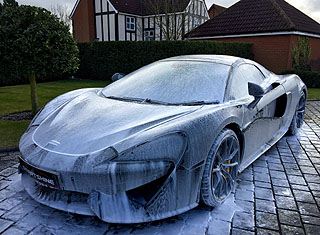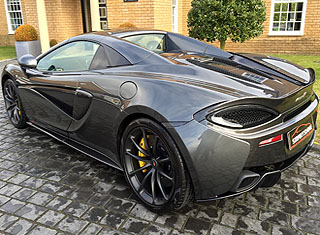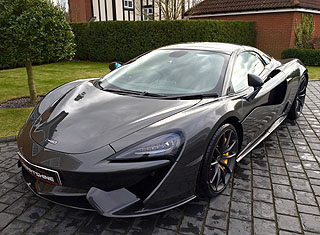 - S. Blurton, McLaren 570S
"I had my brand new McLaren 570S delivered to Smartshine Car Detailing studio to be prepared and protected properly. I have been using Harvey for the past 5 years and only trust him on my supercars. He's a professional car detailer and a perfectionist exactly what you need form your car detailing company. My McLaren 570S looked good at the dealership but now after a gtechniq new car detail it's better than new! Amazing high gloss finish and more importantly the ceramic coatings will protected paintwork against future swirl marks."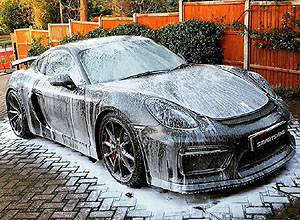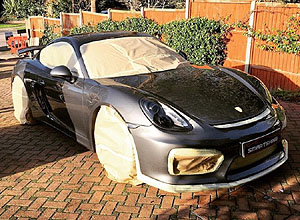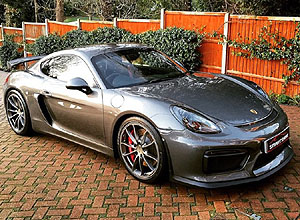 - S. Daya, Porsche GT4
"Had my brand new Porsche GT4 booked in for gtechniq new car detail. Harvey not surprised by the poor dealership prep, this paintwork is full of swirl marks caused by poor washing. Before any gtechniq ceramic coatings can be applied, the paintwork has to be machine polish led first to make sure car is perfect, remove all swirl marks safely. Reason why we tell clients don't let car dealership's wash your car!. Harvey pays great attention to detail and j couldn't be more happier with the results. Car looks amazing now. I would highly recommend Smartshine Car Detailing to anyone."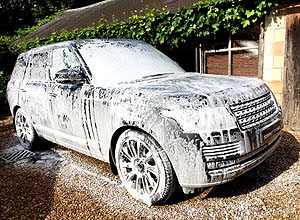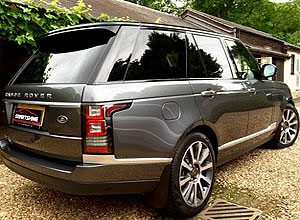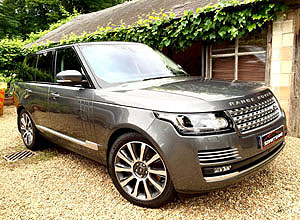 - E. Partridge, Range Rover Vogue
"We've had great results from Smartshine Car Detailing for 15 years they've worked for us. Harvey treats each car as his own, takes great care and reliability. No one else have ever detailed our cars to this standard. We've very satisfied customers."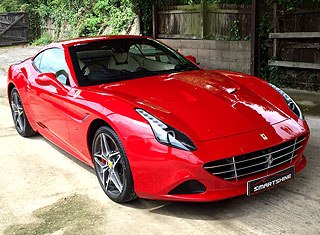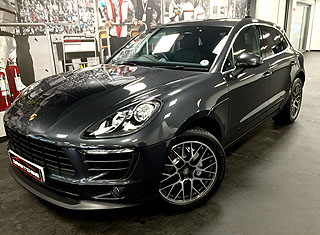 - R. Heath, Ferrari California T
"Smartshine Car Detailing have been looking after my collection of vehicles for the past 10 years. Carrying out gtechniq new car detail when I bought my vehicles from new. Gtechniq ceramic coatings will not only protect your vehicle for 5years, it will protect against future swirls marks. Keeping my vehicle collection newer for longer. Harvey recently prepared and protected my brand new Porsche Macan at Porsche West London. Totally blown away with the finish as always a perfection at work. We have set up for Smartshine Car Detailing to carry out monthly mainentance detailing to keep my vehicles looking perfect all year round. Best detailer in the business!"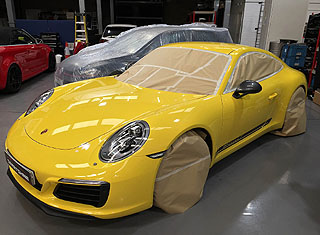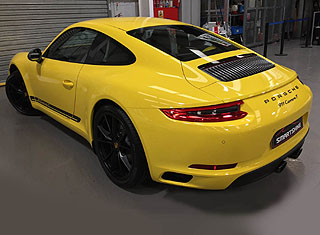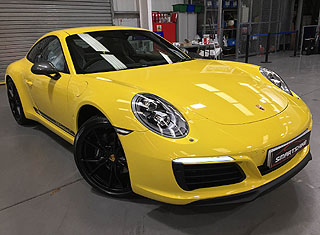 - H. Abhishek, Porsche Carrera T
"Had my brand new Porsche Carrera T delivered straight to Smartshine Car Detailing studio. I booked in for gtechniq new car detail. After close inspection of the paintwork, inside studio lighting picked up all the swirl marks caused by poor dealership preparation!. Harvey recommend paint correction which will remove all swirl marks, so the paintwork is perfect now, better than new. Then applied gtechniq ceramic coatings that will protect paintwork against future swirl marks. Outstanding results as always. Harvey is always meticulous and a perfectionist with his detailing. Well worth having your car detailed by Smartshine Car Detailing. Thanks again!."
Car Paint Protection - Locations
London | Central London | North London | North West London | South London | South West London | West London

Belgravia | Chelsea | Hampstead Garden Suburb | Kensington | South Kensington | Knightsbridge | Mayfair | Marylebone | Notting Hill | St Johns Wood | The Bishops Avenue | Westminster

Arkley | Aspley Guise | Barnet | Beaconsfield | Bushey Heath | Chalfont St Giles | Cuffley | Enfield | Elstree | Farnham Common | Gerrards Cross | Hadley Wood | Hoddesson | Milton Keynes | Potters Bar | Radlett | Rickmansworth | Wentworth Estate | Weybridge | Virginia Water

Amersham | Ascot | Bedfordshire | Berkshire | Buckinghamshire | Cambridgeshire | Chigwell | Cuffley | Essex | Harpenden | Hertfordshire | High Wycombe | Hornchurch | Marlow | Oxshott | St Albans | St George's Hill | Sunningdale | Surrey | Woburn

Please note we cover all locations - above are our most popular.